Create lic new user account
Do you know Create Lic Accounts What is the way to do In the article of websiteHindi.com, I will tell you how to create Life Insurance Corporation of India (LIC) accounts. In this post I will also tell you how to add new policy number on licindia.in.
As you know, in today's time all the works have become digital. If you want to see Life Insurance Corporation of India – Life Insurance Corporation's activity online, then read this article, because in this article I have told how to create LIC account in a better way.
The most important thing about creating an account is that you will be able to buy a new policy without an agent. Apart from this, when should you pay the premium, what is the time of premium, all these questions and you get the option to manage multiple policies. In this post, I have also put a Youtube video related to opening Lic Accounts, which you can take help by watching.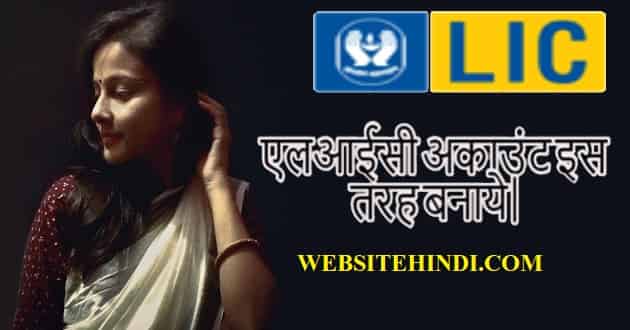 Lic Accounts Create Kaise Kare : Create lic new user account like this.
Follow the steps mentioned in the post to create Lic Account.
step 1
First to open LIC account https://licindia.in/home-(1)/customer-portal Go to website After going to the homepage of this site, the option of New User and Registered User will appear.
If you want to create a new account, then click on the button of New User.
Step 2
on this page Create Your LIC Account The form will appear. This form has to be filled carefully.
Policy Number: Type the policy number of LIC.
Instament Premium : Enter Lic premium amount without tax.
3.Date Of Birth : Enter the date of birth.
Mobile Number : Enter mobile number.
Email Id : Enter Email Id.
Pan : Enter the PAN card number.
Gender : Select Gender.
Terms: Accept the terms and conditions.
Proceed: Click on Proceed button to proceed.
Step 3
Details Re-Confirmation
Here a popup page appears. If Mobile Number, Email ID, PAN, Passport Number is correct then click on Yes button. If you want to improve the information, then you can make corrections by clicking on the No button.
Step 4
Here this kind of Alert message appears.
We Have Migrated To The New Portal And As A Security Measure You Are Required To Re-Verify Your Details. You Can Re-Verify Your Details By Clicking On The Verification Link Sent To Your Email ID After Completion Of Registration/Verification Process. Click on the Ok button to proceed.
Step 4
Set Your Password
Password needs to be set on this page.
Enter the password in both of these boxes.
Click on Submit Button.
Step 5
Your account has been created and the message You Have Successfully Registered will appear. Click on Login button to proceed.
Step 6
Here we have come to the login page. Type User Id, Password and Date Of Birth and click on the Sign In button.
Step 7
Here Alert message will appear in the popup page.
You Are Registered On Our Customer Portal But Verification Of Your Email Id And Mobile Number Is Not Done. To Utilize Our Premier Services, The Verification Of Email/Mobile Is Essential. To Verify Your Email /Mobile Please Click On Send Verification Link Else Skip And Proceed.
Here the email is being asked to verify. Click on Send Verification Link to proceed.
Step 8
Here a popup page will open. It is written in this message that a link has been shared on your email, which can be verified by clicking on it.
The Verification Link Is Sent To Your Registered Email. Kindly Click On The Link To Verify Your Email And Generate An OTP To Verify Your Mobile.
Click on the Ok button to proceed.
Step 9
Now you have to verify by clicking on the email on the Gmail ID open. While verifying, an Otp will be received on the mobile number. Verify email by entering Otp in the box.
Step 10
Here a popup page will appear. On the next page by clicking on the Proceed button, click on the Back option. over here LIC Portal Dashboard will open. Now you can manage your LIC account.
Read this also
How to add Policy Number to Lic Account.
After logging into the policy account, click on Self Policies.
Many options will appear in the side bar. To add the policy number to this account, click on the button of Add New Policy.
Enter the policy number in the box of Policy Number and click on Submit button.
After this you will see that another policy has been added to your Lic accounts.
Conclusion
In the post of Website Hindi.Com, full information has been shared about how to create LIC new user account. It has also been told in this post that what is the way to add another policy number in Lic Accounts.
A video related to creating LIC account has also been attached in this post. By watching this video you will know how to create LIC account online. You can subscribe to our website Hindi Youtube Channel.
Youtube video : LIC ACCOUNT CREATE